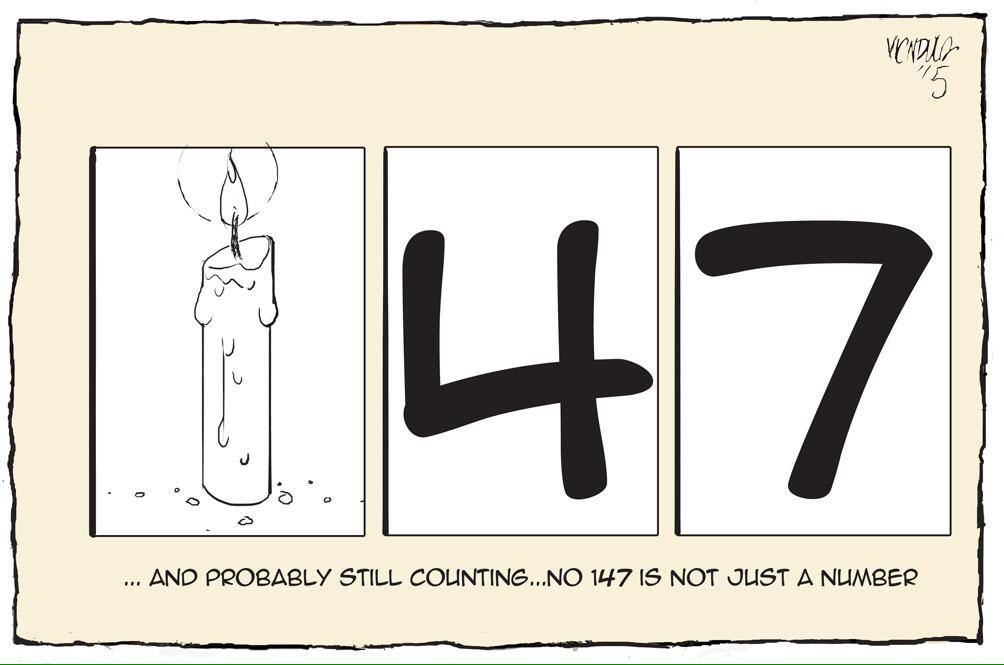 Is the Kenyan Government nothing short of a scavenger that only comes to count and mourn the dead? Are Kenyans at all safe? Does the Kenyan Government really have an idea what they are up to in matters security?
These are the questions on the minds of numerous Kenyans today. From #WestgateMallAttack to #MpeketoniAttacks and now it is #GarissaAttacks. Sandwiched in between is the Thika Road blasts and the list is endless. And what does the government offer in return? Empty reassurances and messages of condolences. We bury our dead and the cycle continues.
The police force is unable to ensure security in the country. And so is the entire ministry that has seen its fair share of sackings and resignations. Only that the new players play under the same defunct conditions. The system is not working. No matter who is at the helm of the chain.
Joseph Ole Lenku was clueless. Yet Joseph Nkaisserry is not proving to be any better. Yes, the tough talk seems a little bit more convincing; but that's just it, convincing. The actions or inaction continue to haunt us several months later.
The sequence is the same. Foreign countries; Britain, America, France or Germany issue travel advisories; President Uhuru Kenyatta rubbishes these insinuations as baseless, reiterating just how safe Kenya is; then BOOM! Alshabaab strikes at exactly one of the areas mentioned as the basis for travel advisories.
When Kenyan Security Agencies claim to be on high alert, it must be in relation to collecting bribes by the roadsides! Since their efficiency is hardly noted. Either that or they intentionally stay away from loud gunshots until guns run out of bullets. A very costly tactic indeed!
At this rate, Mr. President, there may be no more Kenyans for you to govern. That is unless you are serious on our security.
The 147 souls lost in the hands of terrorists were breadwinners; parents and the youth. Bright young minds out to pursue their education with the goal of transforming the lives of the societies in which they reside. A price they paid for so dearly!
It is apparent that the most concerned persons about the state of Insecurity are the General Public. We don't have bodyguards, unlike the president and the political elite. They are protected with the best of officers who should be out there protecting the country and its citizens. How can they understand the pains of the family of Miss. Janet Akinyi, terminated for being a non-Muslim student in Garissa?
The President has once again issued a tearful message of condolence. Seems like this is what the government is best in. Putting on a forlorn face before the cameras and blurting out their #RESTINPEACE phrases. Then the shift focuses on the Opposition and the game of musical chairs continues.
Ooko Victor